The Heart of our Work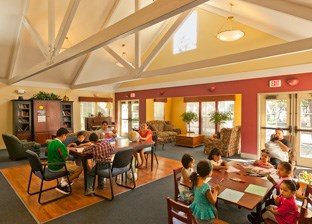 At EAH Housing, our StayWell! Resident Services represent the heart of our work. We believe that sustainable communities are those that provide opportunities for all its members, regardless of socioeconomic background, ethnicity, age, disability status, gender, or any other aspect of one's path in life.
Our staff and service providers work to engage residents in both on-site services and information and referral to outside resources to increase their chance of success. They encourage residents to strengthen their self-reliance and to actively participate in their communities, finding pathways to empowerment in their lives.
Responsive Management Staff
EAH has an excellent reputation with its residents through its open lines of communication and responsive management staff. We employ on-site Resource Coordinators when feasible, and partner with local, private and public community service providers to provide both individualized services and community-wide programs that benefit everyone.
Sample Listing of StayWell! Resident Programs
Our on-site StayWell! resident services vary by property depending upon resident needs and local services available.
Healthy Eating
Our food and gardening programs promote healthy communities and provide educational and nutritional resources to our residents to increase food security and access to healthy meals.
Food Pantry, Produce Programs
Senior Brown Bag, Snacks for Kids, etc.
Community Gardens
Healthy Cooking Demonstrations
Active Living
Our health and fitness classes and casual exercise groups promote overall wellness and aim to be accessible to as many people as possible at their levels of ability.
Tai Chi Classes
Dance Classes
Yoga & Chair Yoga
Walking Clubs
Community Building
Our social programs, events and celebrations encourage community building, fun with family members and neighbors and opportunities to network and increase social connectedness.
National Night Out
Birthday Potlucks
Summer Picnics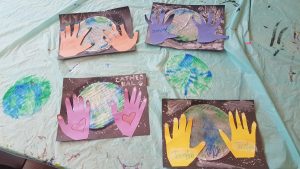 Physical & Mental Health
We work to bring in external resources regularly to help facilitate residents in taking care of their own preventative health.
Health Services & Fairs
Chiropractic & Podiatric Services
Public Health Nurse Visits
Vaccines and Screenings
Brain Games
Education
Our educational resources and workshops are geared toward all ages and provide practical hands-on learning and enrichment.
Computer Learning Centers and Technology Lounges
Digital Literacy Programming
Disaster Preparedness Workshops
ESL and GED Classes
Financial Literacy/Banking Education
How to Avoid Scams and Frauds
Libraries/Bookmobiles
Sustainable Practices for Green Living
Tax Filing Assistance
Civic Engagement
We encourage our residents to build up their leadership skills and be engaged citizens.
Get Out the Vote
Service Opportunities
Storytelling workshops
Volunteering
Expanded Learning Programs
Our youth academic, enrichment and recreational programs provide activities during the critical after-school period and during summer and holiday breaks.
On-site Daycare
After School Programs
Homework Clubs
One-on-One Tutoring
Youth Reading Programs
Scholarship Program
Camps, Boy Scouts, 4-H Club
Field Trips
Resident & Social Services Philosophy
As a non-profit development and property management company, EAH Housing has been able to build into many of its communities a resource coordinator position to serve the needs of residents more effectively. The duties of the Resource Coordinator include linking residents to many, many local and state resources. Engaging outside resources and building multi-layered relationships with out-of-house service organizations creates a more comprehensive array of programs, opportunities and services for each resident. Local, regional and national EAH partners are a huge asset to the success of each customized property service program. Most of what EAH offers is at no cost to the resident.
Each property service program is designed to reflect the demographic, economic and cultural tone of the individual community.
Our multi-pronged approach to services reflects our organizational tagline, a roof is just the beginning:
Core StayWell! Resident Services areas: By focusing on resident engagement through healthy eating, active living, community building, physical and mental health, education and civic engagement programming, EAH can reach out a wide range of residents. We support our youth along their educational paths, from elementary school through high school and onward to secondary education. In promoting health and wellness, our families and seniors can create and engage in healthy communities that lead by example. With attention to building leadership, relationships and storytelling skills, our shared voices can encourage positive community action.
Full service affordable housing non-profit corporation: As both a developer and property manager providing service coordination, EAH Housing has the opportunity to learn from multiple sites, populations and locations to find the best practices in service coordination and resident living environments to inform proposals and construction projects. Thinking strategically about our future construction and renovation projects, we can make conscientious design choices that positively affect our residents.
External partnerships: The EAH Housing resident services team focuses on building strong neighborly relationships, not only among residents but also in the local community. Engagement goes beyond the immediate bounds of each property and stretches into local school districts, community based organizations, places of worship, universities and institutions, and up to regional, state and federal level organizations. Deep rooted relationships are also built across fellow EAH properties in the region, creating opportunities to build trusted bonds and share resources and ideas.
The development of services for a property is a key piece to engaging a community completely. It provides a heartbeat to the community it connects to, builds relationships, and forges endurance and community partners to support efforts locally and statewide.
Senior Housing Experience
EAH Housing operates more than two dozen senior properties in California and Hawaii, 30% of which are managed for owners other than EAH. With a diverse population of over 20,000 residents, EAH Housing has developed a strong focus on older adults for the following reasons:
Almost one fourth of the EAH Housing management portfolio is senior housing;
More older adults live in EAH family properties than in EAH age-restricted properties; and
If current trends continue, the numbers of older adults in EAH communities will more than double in 10 years.
A major key to EAH's continued success in senior affordable housing lies in the supportive services offered. Those services help residents maximize their ability to maintain stable housing and live happy, healthy and independent lives. There are two pillars to our service philosophy for older adults:
First, our services provide compassionate, individualized, voluntary assistance designed to help residents meet their own goals for self-sufficiency. The integration of a culturally sensitive, comprehensive system of on-site social and health services, with affordable housing, provides older adults with the opportunity to reside in their place of choice. By tailoring to individual needs and choices, we help empower seniors with integrity and dignity.
Second, our services draw from a variety of programs available to maximize the service offerings to residents. Those service are offered through a coordinated effort between an on-site Resource Coordinator (if applicable), the property management staff, community providers, and the residents themselves – ensuring the maximum availability of choice of services for all residents. The Real Estate Management team may also host resident appreciation days, holiday celebrations, and coffee/dessert hours.
EAH constantly assesses the needs of its senior and older adult populations, driving company-wide initiatives to ensure the quality of life and ability of our older residents to independently age in place:
In 2012, a comprehensive evaluation by the management team determined the need for increased sources of free food, as well as fresh and nutritional options. Over the next year, every senior property in the EAH Housing portfolio had new or enhanced food and nutrition options, varying from an on-site café, resident gardens, monthly brown bags, senior gleaners, public gardens, and cooking and nutrition classes, to donations from local markets and restaurants, meals on wheels and food banks. Some properties are now food distribution points not only for residents but also local neighbors.
In 2014, EAH next turned its attention to a more in depth analysis of the services provided to the senior communities, convening property supervisors, managers and resource coordinators to brainstorm about their collective and individual visions for services. This focus allowed the team to talk about similarities and differences across properties and establish working groups to collaborate on information and processes for the Services Initiative. As a result of these discussions, a common theme emerged: that services should support individuals' abilities to enrich and find a "purpose to their life" no matter their age or ability. Helping to facilitate these opportunities became a goal of EAH, leading to the StayWell! Initiative the following year.
EAH Housing Scholarship
EAH Housing envisions neighborhoods of balanced communities comprised of people of many income levels, educational backgrounds, job skills, religions, and races, with affordable housing available for all. We believe this balance enhances the quality and richness of all our lives. To that end, we at EAH constantly strive to support the residents of our communities in the pursuit of their dreams. Our scholarship program is a way to support and provide opportunities to students who have a desire to increase their level of education.
Early on, we encourage our youth to keep up with their academics and STEAM learning (science, technology, engineering, art and math) at home both after school and throughout the summer, to set them on track for participation in our scholarship program.
Each year EAH Housing grants approximately ten new students awards for the academic year, while current scholarship awardees can reapply to receive the award annually until their graduation date. Course load and GPA requirements ensure that students stay diligent in their commitment to their education. The goal of the EAH Housing Rebecca W. Watkin Scholarship Fund is to help support students through the duration of their entire college experience.