The Heart of our Work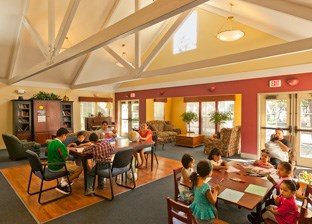 At EAH Housing, our StayWell! Resident Services represent the heart of our work. We believe that sustainable communities are those that provide opportunities for all its members, regardless of socioeconomic background, ethnicity, age, disability status, gender, or any other aspect of one's path in life.
Our staff and service providers work to engage residents in both on-site services and information and referral to outside resources to increase their chance of success. They encourage residents to strengthen their self-reliance and to actively participate in their communities, finding pathways to empowerment in their lives.
Responsive Management Staff
EAH has an excellent reputation with its residents through its open lines of communication and responsive management staff. We employ on-site Resource Coordinators when feasible, and partner with local, private and public community service providers to provide both individualized services and community-wide programs that benefit everyone.
Sample Listing of StayWell! Resident Programs
Our on-site StayWell! resident services vary by property depending upon resident needs and local services available.
Healthy Eating
Our food and gardening programs promote healthy communities and provide educational and nutritional resources to our residents to increase food security and access to healthy meals.
Food Pantry, Produce Programs
Senior Brown Bag, Snacks for Kids, etc.
Community Gardens
Healthy Cooking Demonstrations
Active Living
Our health and fitness classes and casual exercise groups promote overall wellness and aim to be accessible to as many people as possible at their levels of ability.
Tai Chi Classes
Dance Classes
Yoga & Chair Yoga
Walking Clubs
Community Building
Our social programs, events and celebrations encourage community building, fun with family members and neighbors and opportunities to network and increase social connectedness.
National Night Out
Birthday Potlucks
Summer Picnics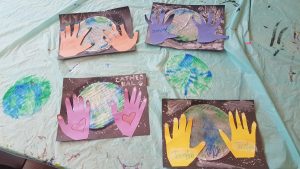 Physical & Mental Health
We work to bring in external resources regularly to help facilitate residents in taking care of their own preventative health.
Health Services & Fairs
Chiropractic & Podiatric Services
Public Health Nurse Visits
Vaccines and Screenings
Brain Games
Education
Our educational resources and workshops are geared toward all ages and provide practical hands-on learning and enrichment.
Computer Learning Centers and Technology Lounges
Digital Literacy Programming
Disaster Preparedness Workshops
ESL and GED Classes
Financial Literacy/Banking Education
How to Avoid Scams and Frauds
Libraries/Bookmobiles
Sustainable Practices for Green Living
Tax Filing Assistance
Civic Engagement
We encourage our residents to build up their leadership skills and be engaged citizens.
Get Out the Vote
Service Opportunities
Storytelling workshops
Volunteering
Expanded Learning Programs
Resident & Social Services Philosophy
Senior Housing Experience
EAH Housing Scholarship