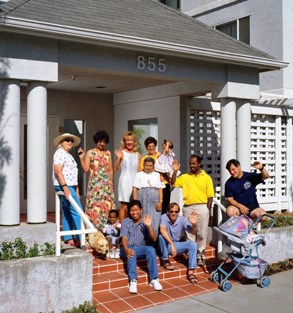 Property Management Overview
Since 1968, our real estate management team has provided comprehensive management services for family, workforce, older adult, veteran, and student housing apartment communities. With more than 8,900 apartments and 100+ properties in the EAH Housing portfolio, we take pride in our reputation as consummate problem solvers. In addition to managing our own properties, EAH proudly manages numerous properties for private companies, governmental entities, other nonprofits and organizations. EAH Housing has received multiple national awards and numerous commendations for exemplary property management from community leaders and legislators on the federal, state and local levels. Most importantly, our 25,000 residents respect us for our commitment to excellence and integrity.
EAH Housing is dedicated to enhancing the quality of life for all residents in the communities and surrounding neighborhoods that we serve. This philosophy goes far beyond conventional property management by providing new resources and fresh, effective approaches to the complex challenges that we face as property managers. We look beyond the simple preservation of physical assets and are motivated by an authentic concern for all—creating secure communities where residents thrive on multiple levels.
Type of Properties
Expert Property Management Services
Skilled Compliance Team
Effective Management Structure
Compassionate Resident Services Philosophy
Green Operations Best Practices
Knowledgeable Fee Management for Owners