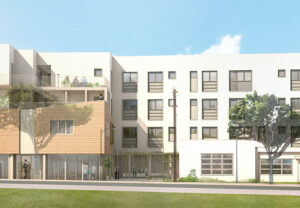 The Laurel is a brand-new affordable housing development targeting unhoused individuals earning 30% or less than the local Area Median Income (AMI). Project-based rental vouchers support all 57 Permanent Supportive Housing (PSH) units via the City of Santa Monica with an initial term of 20 years.
The community features various indoor and outdoor amenities for residents, including rehabilitating a former Japanese-American Community Hall, recognized as a historical landmark by the City of Santa Monica. The community hall will be converted into a community room and property manager's unit. The Santa Monica Landmarks Commission has approved the project design. Other amenities include bicycle storage and multiple patios, and open courtyard space.
Construction started: 2022
Construction estimated completion: 2024
Property Type: Permanent Supportive Housing/Special Needs
Location: 1413 Michigan Ave, Santa Monica, CA 90404
Units: 58 apartments
Developer: EAH Housing
Architect: KFA Architecture
General Contractor: Wesport Construction Inc.
Financing Participants:
9% LIHTC
City of Santa Monica
National Equity Fund
Century Housing Tranche A
Wells Fargo