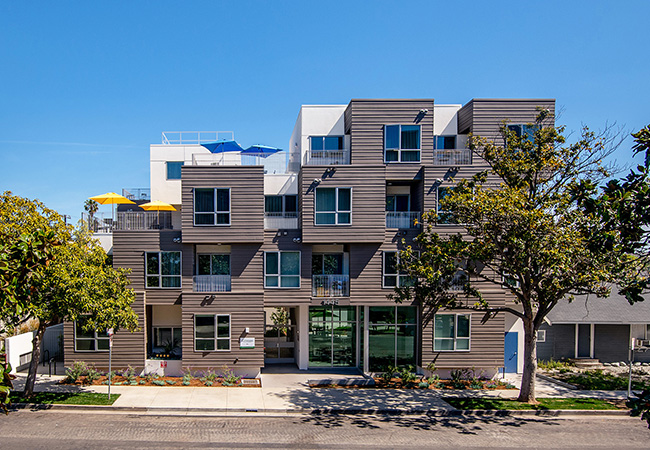 By: Business Journal Events
GOLD AWARD: Magnolia Villas | 1445 10th St., Santa Monica
Developer: EAH Housing
GC: Walton Construction Inc.
Architect: DE Architects, AIA
March 7, 2023 – Magnolia Villas is a 40-unit, four-story 100% deed restricted affordable senior housing project located two blocks from the amenities and public transit options offered in Downtown Santa Monica.
The site is within a four-story mixed use zone. The design approach chosen was to create a checkerboard of single story cubes clad in lap siding, respecting the scale and material finish of the adjacent bungalows. Modules were removed to provide outdoor terraces, increasing the common open space areas while stepping the building so it transitions from four stories to a perceived one-story height at the street. A glass enclosed community room was added at the ground floor providing a pedestrian oriented space addressing the adjacent sidewalk and providing a visual connection into the central courtyard.
The final product is a building that provides 40 units of much needed affordable housing in a neighborhood that would normally be financially unattainable for the tenant population, while respecting the adjacent urban context.
Read full article here.