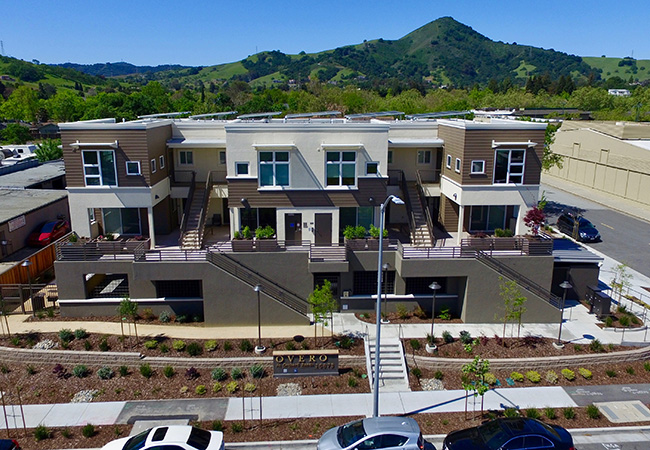 41 Affordable and Support Housing Apartments in Morgan Hill
Morgan Hill, CA (May 15, 2019) – Today, EAH Housing announced the grand opening of an affordable and supportive housing community in Morgan Hill. The community has 41 units, including one-, two-, and three-bedroom apartments across three congruent lots within one mile from each other.
"This is truly a one-of-a-kind development," said Welton Jordan, vice president of real estate development for EAH Housing. "In conjunction with the city of Morgan Hill, EAH Housing took three small infill sites, and built an apartment community that provides homes for 145 people, including working families, transitional aged youth (TAY), children and people at risk of being homeless."
The two story, garden style apartments provide permanent housing for low income families at or below 60% area median income (AMI) for Santa Clara County. It also has five ADA-accessible units, as well as two commercial lease spaces. EAH Housing has partnered with the Office of Supportive Housing of Santa Clara County to provide supportive services for many residents to help them improve their health, wellbeing and self-sufficiency.
"Many of these residents were homeless – facing dire situations, some living in their cars, no home to go to," said Katherine Harasz, executive director of the Santa Clara County Housing Authority. "Now, these residents have a place to call home, a community to be a part of, and a network to support them."
For more than 50 years, it has been the mission of EAH Housing to develop, manage and promote quality affordable housing and sustainable, diverse communities. The organization serves 20,000 people every day – working families, seniors, veterans and people with disabilities in California and Hawaii, and it is proud to continue serving all of the residents who call the Hilarita home.
About EAH Housing
Established in 1968, EAH Housing is one of the largest and most respected nonprofit housing development and management organizations in the western United States. EAH develops low-income multifamily housing, manages more than 110 properties in 55 municipalities in California and Hawaii, and plays a leadership role in local, regional and national housing advocacy efforts.