Developed by EAH Housing, Magnolia Villas Brings 40 New Affordable Senior Residences to Santa Monica
SANTA MONICA, C.A. (Oct. 10, 2022) — Mayor Sue Himmelrich and Santa Monica Housing Commission Staff Liaison Jim Kemper recently joined residents of Magnolia Villas, a 40-unit affordable housing community for low-income seniors, to celebrate its grand opening.
Developed by EAH Housing, one of the largest and most respected nonprofit housing development and management organizations in the western United States, Magnolia Villas is a four-story, 26,875-square-foot building located in an area rich with amenities and transportation options.
"Close to 10,000 Santa Monica households are rent-burdened, meaning they spend a third or more of their incomes on rent and utilities," said Himmelrich. "That's roughly one-fifth of all existing Santa Monica households. Real estate development projects like Magnolia Villas are great examples of city government-financed initiatives that help make our City more inclusive through the creation of affordable housing where community members can age-in-place."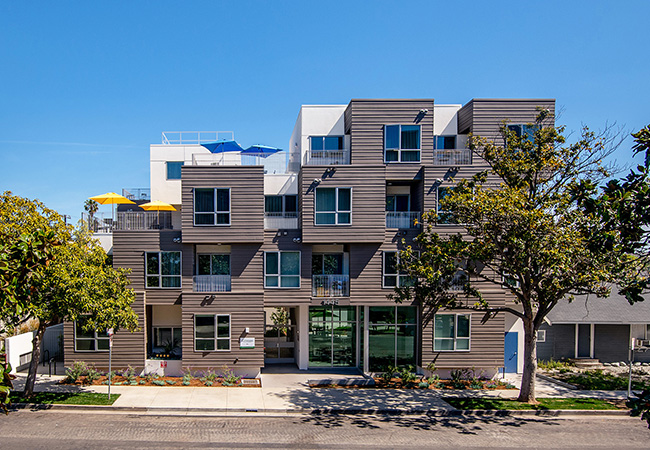 Both Kaiser Permanente and UCLA Medical Center are in the vicinity as well as many pharmacy locations. Magnolia Villas is located close to several bus stops with access to multiple bus lines. Many leisure options are available within a mile of the development including Santa Monica Pier, Santa Monica State Beach, and Third Street Promenade for access to movie theaters, restaurants, cafes, and shopping.
"The City of Santa Monica invested $11.4 million from the Housing Trust Fund to build Magnolia Villas, which is part of our longstanding commitment to affordable housing production," said the City's Housing Program Manager Jim Kemper. "We're excited 39 senior households have a new home with close access to Santa Monica medical campuses and the Downtown core."
Magnolia Villas, located at 1453 10th Street, comprises 39 one-bedroom apartments, and an on-site staff unit, as well as a 2,000-square-foot outdoor courtyard and community garden, onsite laundry, bicycle storage, programming offices, and a community room. Each unit includes a private balcony.
Architecture firm DE Architects designed Magnolia Villas with cantilevers, inset balconies, and roof terraces to give texture to its facade while also creating common and private decks for resident use.
Rents at Magnolia Villas are affordable to adults 62 and older making between 30 percent and 60 percent of area median income (AMI).
"California has the nation's highest rate of functional poverty, which is in large part due to high housing costs," said Laura Hall, President and CEO of EAH Housing. "We're proud to have the opportunity to help address the escalating affordability crisis and continue to build solutions in the City of Santa Monica."
EAH Housing has a total of 208 affordable apartment units in Santa Monica and 2,398 in California in the pre-development and construction phases.Magnolia Villas was financed by a $11.4 million investment from the City of Santa Monica with construction loan and equity financing provided by Bank of America.
"Magnolia Villas represents the power of public-private partnerships in converting an underutilized site into 40 incredible, new affordable housing units for low-income seniors, providing the residents with resources to sustain a healthy and financially stable quality of life. Bank of America is proud to be a major funder of Magnolia Villas with our developer partner EAH and the City of Santa Monica," said Garrett Gin, Los Angeles market executive, Bank of America.
About EAH Housing
EAH Housing is a nonprofit corporation founded with the belief that attractive affordable rental housing is the cornerstone to sustainable, living communities. Established in 1968, EAH Housing has become one of the largest and most respected nonprofit housing development and management organizations in the Western United States. With a staff of over 750, EAH develops affordable housing, manages over 230 properties in California and Hawai'i, and plays a leadership role in local, regional, and national housing advocacy efforts. The mission of EAH Housing is to expand the range of opportunities for all by developing, managing, and promoting quality affordable housing and diverse communities.
Starting from grass-roots origins in response to the death of Dr. Martin Luther King Jr., EAH Housing now serves over 25,000 low-income families, seniors, veterans, formerly unhoused individuals, people with special needs, transitional age youth (TAY), artists, farmworkers, and students. Combining award-winning design, innovative on-site services, and a commitment to people, EAH reflects the distinctive personality of each community.