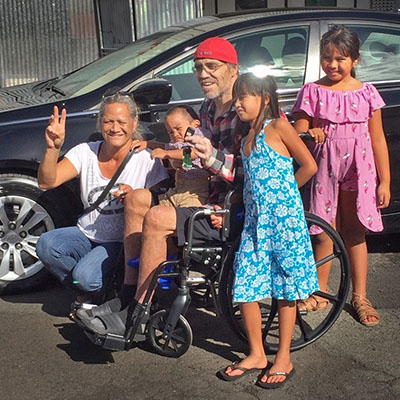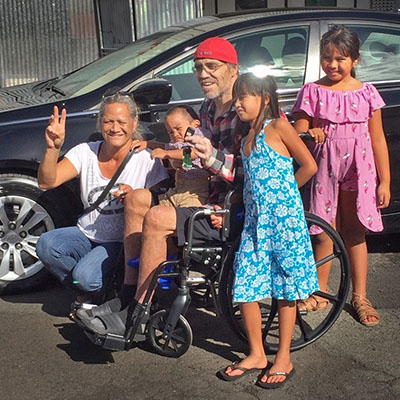 Honolulu, HI, May 2020 – Five years ago, Ken and Royalnette's lives changed for the worse. Ken's decades-old hip injury flared up, forcing him to stop working as night manager at a grocery store. And because their van was totaled in an accident in 2019, these residents of Kukui Gardens, an EAH Housing community in Honolulu, had to run errands by bicycle, including grocery shopping and taking their three adoptive children to school.
Their lowest point came when Ken's deteriorating hip joint became infected in December 2019 and he was hospitalized. But the couple didn't give up. With help from Helen, Kukui Gardens' resource coordinator, they wrote a letter asking for help from the city's annual Adopt-A-Family program, explaining their situation and asking for gifts they desperately needed, especially a car.
It was their fourth try. But this time, fortune smiled on them.
Helping Hands Hawaiʻi, Adopt-A-Family's Oahu-based sponsor, read their letter and chose to help them. Royalnette and Ken were given, among other gifts, a 2012 Hyundai Sonata. "I was surprised they chose us," says Ken, 55. "I was shocked. I was glad. We really needed the help."
The couple praise Helen for helping them complete the four-page Adopt-A-Family application, and also for her leadership at Kukui Gardens, connecting residents with community resources and putting on activities, especially for the children.
"In the four years we've been here, she has been the greatest," says Royalnette, 50. "She always has events for the children, and because of that we volunteer to help her. I love that lady for all she does."
Ken, now confined to a wheelchair, may be able to get a hip replacement later this year. Then he hopes to go back to work. Royalnette, who once dreamed of opening an orphanage for "unfortunate children," stays busy looking after their children: two girls, 8 and 6, and their toddler son, 2. It's a little easier now, because in addition to the car, they also received a vacuum cleaner, and furniture and clothing for their kids.
Before start of the coronavirus pandemic, Ken and Royalnette helped Helen as volunteers — Royalnette with the Wednesday citizen patrol and Ken during movie nights as a flashlight-wielding doorman. "I'm just so grateful for being part of Kukui Gardens, living as a resident here," says Royalnette.