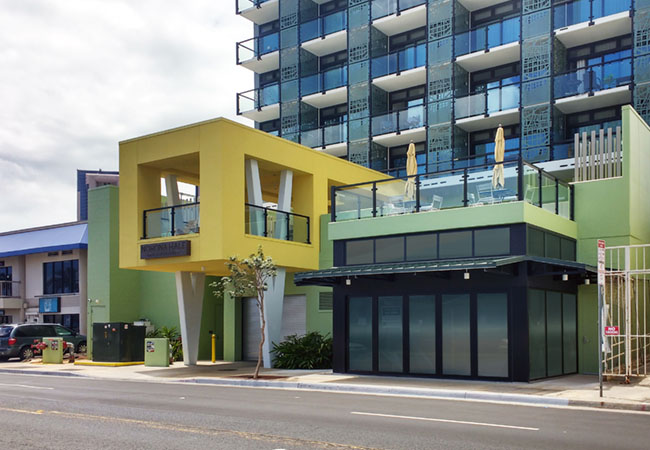 New Micro Unit Development Receives National Recognition

Honolulu (July 28, 2021) – EAH Housing and Bronx Pro announced today that Nohona Hale was selected as a finalist in the urban development category for the Affordable Housing Magazine Readers' Choice Awards.
In the heart of the Kaka'ako neighborhood, Nohona Hale is an innovative new approach to affordable housing. It is a 16-story, 111 micro unit development built on a 9,660 square foot lot. "What was once a parking lot has been transformed to a vibrant, urban community," said Marian Gushiken, director of real estate development for EAH Housing Hawaii. "Together with Bronx Pro, we were able to create new housing that is in line with smart growth – it is near public transportation, affordable and sustainable."
True to island living, each apartment has its own private lanai. Residents can also enjoy the community gardens, an indoor/outdoor lounge area, a fitness room, and on-site laundry facilities. Additionally, Nohona Hale has bicycle, moped, and surfboard storage areas, and a secured entry. It has LED lighting, low-flow water fixtures, solar photovoltaic (PV) panels, and solar thermal water heating, and recently won a United States Green Building Council Leadership Award for its commitment to sustainability.
"We are excited to receive this nomination," says Samantha Magistro, co-managing director at Bronx Pro. "Nohona Hale is a model for beautiful design, sustainability and affordable living in an urban environment."
To vote for Nohona Hale, please visit Affordable Housing Finance magazine. Voting takes place from today through August 20.
About EAH Housing
Established in 1968, EAH Housing is one of the largest and most respected nonprofit housing development and management organizations in the western United States. EAH develops low-income multifamily housing, manages more than 222 properties throughout in California and Hawai'i, and plays a leadership role in local, regional, and national housing advocacy efforts.
About Bronx Pro Group
Bronx Pro Group LLC is a neighborhood-based firm dedicated to community development through affordable housing investments since 1988. Bronx Pro's mission is to develop quality housing that is both affordable and sustainable. The company and its affiliates employ full-time professionals and support staff engaged in real estate development, construction, building management, and residential services. Since 1998, the company has developed over 2,800 affordable housing units. For more information, visit: www.bronxprogroup.com.