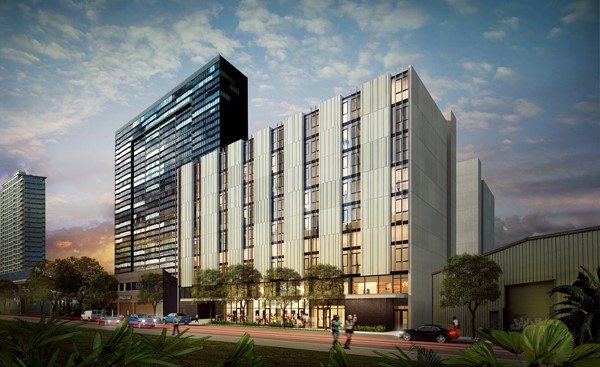 December 21, 2018
The new affordable housing rental community will also be home to the PA'I Foundation Arts Center
HONOLULU – EAH Housing and Artspace announced that they are now accepting applications for Ola Ka 'Ilima Artspace Lofts, an affordable housing community for low-income artists, artisans, culture bearers and their families.
"The need for affordable housing in Honolulu is staggering and we've seen it impact many groups, especially those in the arts," said Marian Gushiken, director of real estate development at EAH Housing. "We're proud to partner with Artspace in this effort to provide quality affordable housing to our creative community."
Ola Ka 'Ilima Artspace Lofts is located in the Kaka'ako neighborhood of Honolulu has 84 units, including one-, two- and three- bedroom apartments, and more than 11,000 square feet of commercial space for arts-oriented businesses or organizations. The units range in size from 680 to 1,279 square feet. Rents will range from $522 to $1,670, subject to the U.S. Department of Housing and Urban Development (HUD). Maximum household income will be based on 60% and below of the published area median income (AMI) for Honolulu County.
Ola Ka 'Ilima will also offer its residents:
High ceilings and large windows
Onsite washers and dryers for laundry
Community gallery
Spacious outdoor courtyard with a playground and community gardens
On-site management office
Residential parking garage
"What I love about Ola Ka 'Ilima Artspace Lofts is that we are building great affordable rental housing for artists, artisans and culture bearers," said Naomi Chu, vice president of asset management for Artspace. "This will be a creative community for all forms of creative expression and home to the PA'I Arts and Culture Center, the first native Hawaiian Cultural Center. Imagine the impact of the creative energy and spirit of this new artist community and this native cultural center in the same place in the heart of Kaka'ako – it is going to be incredible."
The PA'I Foundation Arts Center will be located at Ola Ka 'Ilima. It will include an art gallery, a performance area which can be used in various space configurations, and an office and work suite. Native artists and cultural practitioners will use the space to create, practice, display, showcase, and market native traditional and contemporary arts.
For anyone who is interested in an application or for more information on the application process, please visit: www.eahhousing.org/future/artspace-lofts
The application submission deadline is January 22, 2019 at 4:00 pm HST.
EAH Housing, a nonprofit organization, is celebrating its 50th anniversary and continues its mission to develop, manage and promote quality affordable housing and sustainable diverse communities. The organization serves 20,000 people every day – working families, people with disabilites, veterans, and kupuna in Hawai'i and California.
About EAH Housing
Established in 1968, EAH Housing is one of the largest and most respected not-for-profit housing development and management organizations in the western United States. EAH develops low-income housing, manages 110 properties in 55 municipalities and plays a leadership role in local, regional and national housing advocacy efforts. For more information, contact [email protected].
About Artspace
Founded in 1979, Artspace is a nonprofit organization whose mission is to create, foster, and preserve affordable and sustainable space for artists and arts organizations. To fulfill that mission, Artspace uses the tools of real estate development to construct or restore places where artists can affordably live and work. Artspace buildings also support healthy communities, anchored in existing assets. With a commitment to affordability, Artspace ensures that the spaces remain accessible to artists and their families in perpetuity. Artspace's unique portfolio, developed over three decades, includes 50 projects nationwide and represents more than $650 million invested in America's infrastructure. Beyond developing places, Artspace has also served as a consultant to hundreds of arts communities coast-to-coast, helping others advance their visions. While embracing the value the arts bring to individual lives, Artspace champions the once-radical idea that artists and arts organizations can leverage fundamental social change. Artspace's headquarters are located in Minneapolis, with additional offices in Denver, New Orleans, New York, Seattle, and Washington D.C. For more information, please visit www.artspace.org.